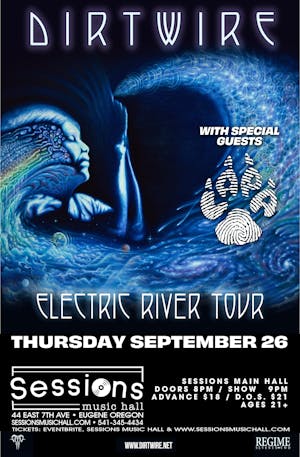 Presented by Sessions Music Hall
Dirtwire
Lapa
Sessions Music Hall
Dirtwire in the Main Hall
Dirtwire is a traveler's collage of Earth-borne instruments and electronic sounds foraged from Electric Forest to the mountains of Tuva. From their home on the west coast of the United States to far-flung destinations all over the world, these troubadours are welcomed for speaking the most unifying language there is: music.
Every live set is a magician's surprise show, an invitation to experience instruments that are usually heard only as samples in electronic music. It is a celebration of the art of the instrument, not just the sound you can record from it. Future revival, swamptronica, spaghetti-step, electro-twang — whatever you call Dirtwire's music, what matters is that you can dance to it, as sure as a lizard dances in the desert.
Dirtwire, comprised of lifelong friends and musicians Evan Fraser, David Satori, and Mark Reveley, are touring now in support of their new record "Road Goes All Night". The road goes further yet, friends. Come see where it leads at a show near you.
Lapa, will be opening for Dirtwire!
Ilya Goldberg began training in classical violin at an early age in his birthplace of Perm,
Russia. Since moving to the States in 2000 to pursue music full-time, his skill and
dedication has guided him on the nomad's path from the Cleveland Institute of Music to
international tours out of his home base in Portland, Oregon.
In the classical realm, Ilya has performed with several Russian and American orchestras,
chamber groups, and as a soloist. With over a decade of experience as a chameleonic
studio musician on violin, viola, and mandolin he is lauded for his ability to fluidly adapt
his improvisational mastery to any genre. Ilya also fills a unique niche by infusing
electronic music with classical technique and a sensibility spanning epochs of music. His
collaborators include RANDOM RAB, LYNX, RENA JONES, THE HUMAN
EXPERIENCE, FUTURE SIMPLE PROJECT and DEVOCHKA. Currently, he performs
and works closely with innovative electronic trip-hop producer EMANCIPATOR.
As a producer under the moniker Lapa, Ilya weaves together musical stories with
complexly textured harmonies, expansive melodies, and intricately layered beats. His
music blurs borders and transcends boundaries, illuminating the resonance of universal
forces and teleporting people to wild, dream-like places of serenity and connection.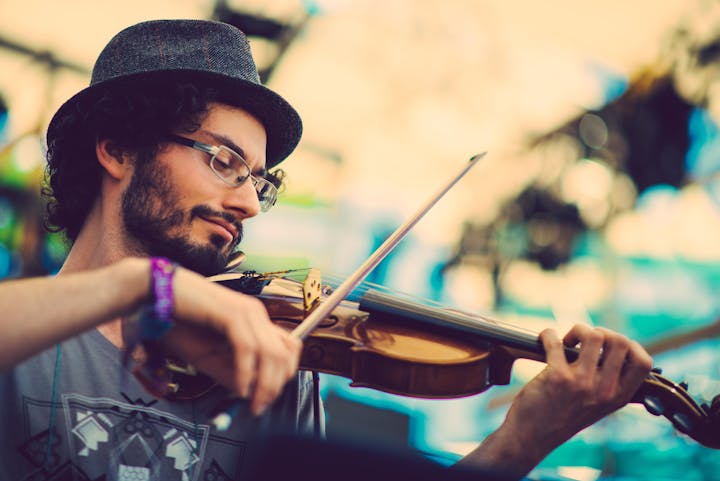 Venue Information:
Sessions Music Hall
44 E. 7th Ave
Eugene, OR, 97401